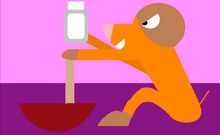 Sicore is the 3rd episode in the series.
Plot synopsis
Edit
Whenever Dina's making, she's making a poisoned cake. You may know that she doesn't cook as Mico, she is not great. Sicored has ordered more than a great one, it was more than the one with a part. Here is a baking test from the poisoned cake scene where compares Mico's cake mix to turn her cake into a deadly devil's food, why could'nt she tickle Chocolate with Mico and Carry. Even when this episode may look cringy, I do think that was a kind of different than ever before. As Dina's poisoned mix was dipped into the mix, it would make easy how Bargain Community Center isn't a community center anymore. So Sicored is more simular that we ever expect some ever great sequence than we ever think about, it was an odd episode. It was a wierd begenning, man I ever blew up. That is the start.
Appearances
Edit
Characters you know
Carry The Teenage Female Skunk
Chocolate The Teenage Female Bear
Mico The Teenage Female Fox
Dina The Teenage Female Dog
Notes & trivia
Edit
Why does Dina make a poisoned cake
Community content is available under
CC-BY-SA
unless otherwise noted.